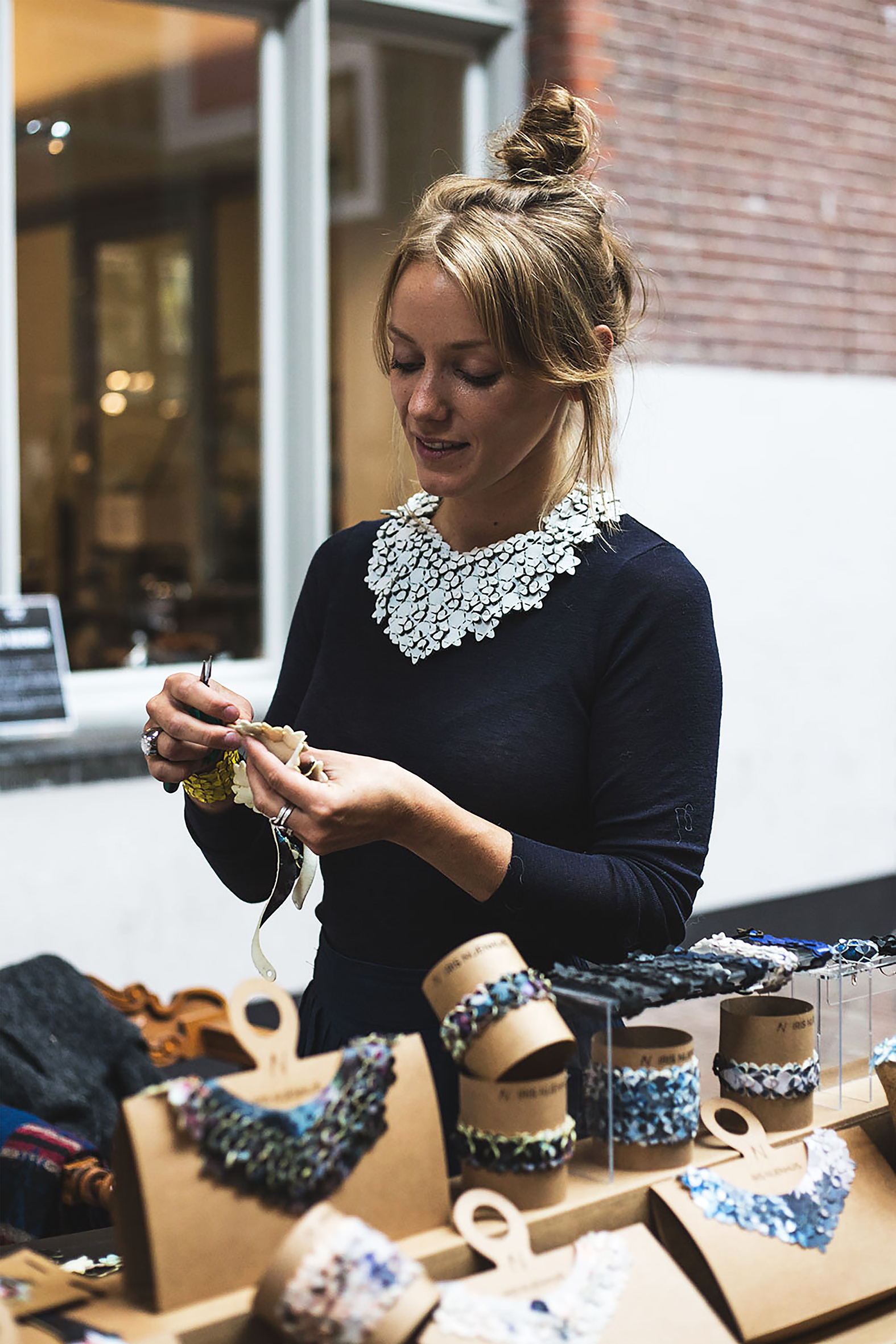 About
Iris Nijenhuis is an Amsterdam based designer with a passion for laser cutting and a wide interest in experimental shapes and structures. She graduated from the Amsterdam Fashion Institute with a collection of fabrics and unique pieces that emerged from a broad research into the use innovative techniques. She tried to extend the value of textile by extracting the essence and adding functionality to the fabric. By experimenting with laser cutting she used a technique in which the fabric is cut into small puzzle pieces that form the basis of the design proces. By connecting the puzzle pieces together manually, inspiring shapes and structures are created that can form various products. It became clear to her that this technique would give her endless possibilities and challenges in designing.
She would love to wrap the whole world in puzzle pieces! But in addition to creating puzzles she also engages in commissioned work in graphic design and laser cutting for both business and private.
So how did this all happen??
In co-operation with the Fund for the Creative Industries, MOTI (Museum of the Image) approached 10 designers to create an innovative piece that captured the future of fashion. This project, Te[ch]x(t)iles, was a part of the exhibition Couture Graphique. Iris Nijenhuis dismantled an old Chesterfield armchair and cut up the leather into hundreds of small pieces and a few larger patterns using a laser cutter. She manually put all the pieces together that resulted into a large Master piece, which contains about 1400 leather puzzle pieces! According to Iris Nijenhuis this technique is a good solution for the reuse of textile and leather, if you're bored with your coat or chair, cut it into puzzle pieces and you can recreate new garments and accessories. Te[ch]x(t)iles was exhibited at MOTI (Museum of Image, 2012), OBA (Central Public Library Amsterdam, 2013), MUDAC (Musée de design et d'arts appliqués contemporains, Lausanne, 2014)
Trying to make this technique more suitable for wearable designs Iris Nijenhuis developed the jewellery collection. Artificial leather, scuba and neoprene is cut by laser, washed and dried and then she puzzles it together piece by piece into necklaces and bracelets. You can play with the shape and size of your design by removing or adding pieces and create your own unique piece in your favorite colors.